---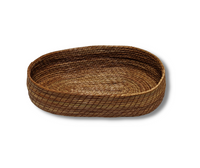 This basket is handcrafted by our partners in Oaxaca, Mexico. The pine needles are from a specific variety of pine tree found in Oaxaca that produces a very long needle. By creating these baskets, the community is creating demand for these pine needles, ensuring the maintenance of the mature trees. 
Approximate size: 12" long x 8" wide x 3" tall
Individual baskets vary slightly in size and shape due to the handmade process. 
Profits from this purchase support Plant With Purpose.